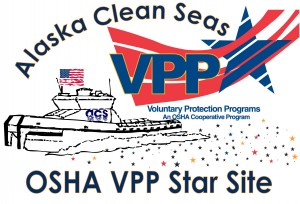 Environmental Management System
Health, Safety and Environmental
Our HSE goals proved the foundation to all activities, from slope jobs to play at home. In order to achieve our organizational goals we strive to keep all members of our team focused on maintaining the highest levels of commitment to safety.
ACS works to engage each employee and contractor to participate in ACS HSE programs by incorporating the use of safety tools.
ACS achieved OSHA's Voluntary Protection Program (VPP) Star status in 2008. The VPP Star status is a testament of a level of excellence in Health and Safety management systems. In 2014, ACS went through OSHA's required renewal process to maintain the VPP Star status for another 5 years. OSHA representatives conducted an onsite visit at ACS Base in Deadhorse and a thorough review of ACS safety programs, training records, investigations and safety achievements. ACS continues to be an OSHA VPP Star site. ACS is currently in the process of mentoring other companies to help them achieve OSHA VPP status to help promote safe working environments.