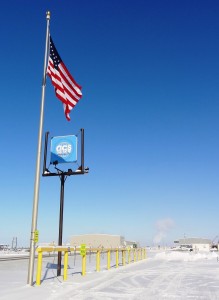 Authority
Alaska Clean Seas (ACS) is a non-profit, incorporated oil spill response cooperative whose current membership includes oil and pipeline companies that engage in or intend to undertake oil and gas exploration, development, production and/or pipeline transport activities on the North Slope of Alaska.
Originally formed in 1979 as ABSORB, ACS was restructured in 1990 from an equipment cooperative into a full-response organization.  ACS is now organized to respond, like a fire brigade, to an emergency with both trained people and equipment.  ACS is active in streamlining approval processes and in fostering a common organizational structure for responding to and managing spills on the North Slope of Alaska.
Purpose
The purpose and mission of ACS is to provide a personnel, material, equipment, and training response capability for use in support of its members in preparing for, responding to, and cleaning up an oil spill on the North Slope.  Under ACS Bylaws, all members are entitled to call upon ACS and receive assistance in the above activities.  Members are also entitled to refer to ACS resources in their contingency plans, and to represent to regulatory agencies and others, that these resources are available to them in the event of a spill.  When authorized by the Board of Directors, ACS may also respond to non-member spills.
ACS is a unique oil spill cooperative in that it provides its member companies with extensive oil spill management and response training, oil spill research and development, and day-to-day field environmental and spill response support.  Environmental support is wide ranging and includes activities such as: field environmental audits; storm water run off management; maintenance of waste generator status including satellite accumulation areas and RCRA storage sites; oversight and proper manifesting of hazardous waste shipments; participation in Environmental Management System development and audits; and wildlife hazing and reporting.
Current Area of Operation
Alaska's North Slope and selected areas of the Alaskan Outer Continental Shelf and adjacent shorelines.  The Trans-Alaska Pipeline from Pump Station One to Milepost 167.
Current Members
Alyeska Pipeline Service Company
ConocoPhillips Alaska, Inc.
Eni Petroleum
ExxonMobil Alaska Production Inc.
Glacier Oil & Gas for Savant Alaska
Great Bear Petroleum Operating LLC
Hilcorp Alaska, LLC
Oil Search (Alaska), LLC
Equipment
Equipment, totaling over $75,000,000, is owned by the member companies and ACS.  The inventory includes: over 61 miles of oil containment boom (including approximately 3.5 miles of fire boom); 160+ skimmers; eight helitorch aerial ignition systems; 96 vessels; two 128 barrel and twelve 249 barrel mini-barges; various sizes of storage tanks and bladders; and wildlife hazing and stabilization equipment.  This includes an extensive marine off-shore response capability.
Manpower
ACS maintains approximately 85 full-time staff, all of whom are available for response operations.  About half of these employees are located within the fields and perform daily spill response and environmental duties under the immediate direction of the member companies.  Additionally, a minimum of 115 qualified response personnel supplied by operating companies under a mutual aid agreement are immediately available on a daily basis to participating member companies.
Training
ACS provides arctic oriented spill response training to its member companies, contractors, village response teams and government agencies.  This includes training in all aspects of spill response, including in-situ burning, broken and solid ice response, wildlife protection, incident management and safety and health issues.
Research and Development (R&D)
ACS has maintained an active oil spill R & D program since 1979 and acts as a facilitator for much of the research and development related spill response in arctic conditions.  The R&D program focuses on specific areas such as oil spill recovery techniques in broken ice as well on, and under ice, and detection and tracking of oil under ice.  ACS is considered an industry leader in the research of in-situ burning techniques and in-situ burning of water-in-oil emulsions.